Vernal Pools (Prairie City SVRA)
Vernal Pools at Prairie City SVRA
Prairie City SVRA is home to an array of vernal pools, seasonal wetlands that are home to some of the last remnants of native grassland plants in the Central Valley. These vernal pools are also home to the federally endangered Vernal Pool Tadpole Shrimp (Lepidurus packardi) as well as the federally threatened Vernal Pool Fairy Shrimp (Branchinecta lynchi). Prairie City SVRA hosts an annual Vernal Pool tour in April that shows our visitors the splendor of this micro-ecosystem. Please check the website or Facebook page for more details on this tour. If you are interested in visiting the vernal pools of Prairie City SVRA on your own please contact the park office for hours, parking, and safety information.
Photo by Jeb Bjerke (cc).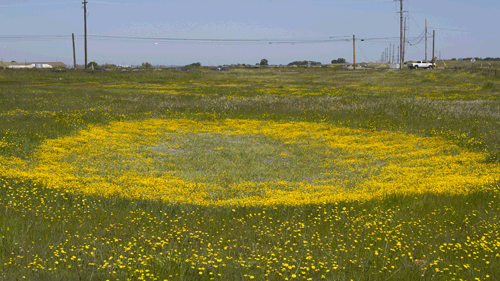 Photo by Jeb Bjerke (cc).
What's In Bloom?
Spokepod (Thysanocarpus radians)
Bloom period: February-April
Can be abundant in the grasslands. Tiny white flowers give rise to unique wheel-shaped seedpods. These plants have a bitter flavor caused by mustard oils, to help protect them from some herbivores. 1
Valley Tassels (Castilleja attenuate)
Bloom period: March-April
This grassland species is also known as white-tipped owl's clover. The flowers are long tubes with three inflated sacks near the top that have a series of pink, yellow and black spots that resemble tiny faces. 1
Royal Larkspur (Delphinium variegatum)
Bloom period: March-April
This species is typically found in California woodlands and grasslands. This flower has deep lobes that overlap. It can be a half-meter in height. 2
Vernal Pool Goldfields (Lasthenia fremontii)
Bloom period: March-May
Endemic to California vernal pools and quite common in most vernal pools. Pollinated by native solitary bees in the Andrenidae family. 1
Fremont's Tidy Tips (Layia fremontii)
Bloom period: March-May
Common in moist grassland. The white circle with a yellow center is like a bull's-eye or target to guide the pollinating insects to the nectar in the center of the flower. 1
White Meadowfoam (Limnanthes alba ssp. Alba)
Bloom period: March-May
Abundant in wet grassland. It is common around vernal pools, but also occurs on slopes that are wet in the early spring. Meadowfoam is pollinated by native solitary bees. 1
Miniature Lupine (Lupinus bicolor)
Bloom period: March-May
The smallest-flowered lupine in California. A common and sometimes abundant component of the grasslands. This plant is noticeable for its palmate (palm-shaped) leaves and later for the large pea pods that hold the seeds. 1
Vernal Pool Monkeyflower (Mimulus tricolor)
Bloom period: March-May
Endemic to California vernal pools. The genus name is from the word for mimic, hence the common name of monkeyflower. This plant can be particularly abundant on old gopher mounds in the vernal pools. 1
Sacramento Beardstyle (Pogogyne zizyphoroides)
Bloom period: March-June
Endemic to Sacramento Valley vernal pools. Lavender flowers are generally less 3mm across. Can occur in both pools and adjacent moist grasslands. The plants have a strong minty smell with chocolate overtones. 1
Horned Downingia (Downingia bicornuta)
Bloom period: April-May
Endemic to California vernal pools. Can be distinguished from related species by the two horns at the throat of the flower. Downingias are pollinated by native solitary bees. 1
Folded Downingia (Downingia ornatissima)
Bloom period: April-May
Endemic to California vernal pools. It can be distinguished from related species by the upper petals, which curl to the sides, and by the slight horn that grows outward from between the upper petals. 1
White Navarretia (Navarretia leucocephala)
Bloom period: April-May
This vernal pool endemic often blankets the bottom of pools. Its flowers are a favorite nectar source for a number of blue or copper butterflies. 1
Woolly Marbles (Psilocarphus brevissimus var. bressimus)
Bloom period: April-May
This vernal pool endemic is shown during the height of its blooming period. The minute flowers are enclosed in tiny, hairy sacks in the center of the flowerhead. Later in the season, the plant will resemble a small woolly marble. 1
Vernal Pool Brodiaea (Brodiaea minor-Vernal Pool Brodiaea)
Bloom period: April-June
Blooms mid-season and is generally found in vernal pools. It can be distinguished from the other Brodiaeas by its short stature and it has a distinct constriction above the ovary. Its bulbs are highly nutritious. 1
Clarkia (Clarkia purpurea ssp. Quadrivulnera)
Bloom period: April-July
This annual plant is native to western North America. The Indigenous peoples of California sowed the plant, to later harvest the seeds to grind for food. The conspicuous flowers support native bees, making it a "honey plant". 2
Valley Checkerbloom (Sidalcea hartwegii)
Bloom period: May-June
The plant is endemic to California, where it grows in the Sacramento Valley and adjacent foothills of the California Coast Ranges to the west, and of the Sierra Nevada to the east. It can be found on serpentine soils. 2
American Pillwort (Pilularia Americana)
This plant, a pteridophyte, is a fern that is native to California. The fronds essentially consist of the stems only, any form of flattened laminae having been lost. It is in the aquatic fern family Marsileaceae, and is related to the water clovers and also to Azolla and Salvinia. 2

1 Field Guide to Vernal Pools of Mather Field-Sacramento County" by Carol W. Witham,
California Native Plant Society, Sacramento Valley Chapter, 2006.
2 Wikipedia