UPDATE (June 16, 2020) - As California State Parks begins working with locals on a phased and regionally-driven approach to increase access to state park units where compliance with state and local public health ordinances can be achieved, it is important for visitors to continue to practice physical distancing and avoid congregating with people outside their immediate household. Everyone has the responsibility to mitigate the spread of COVID-19.
Here are some guidelines for people visiting Onyx Ranch SVRA:
What is open now?
Very limited parking is now available to the public.
Campgrounds are open on a first come, first serve basis and at limited capacity to maintain social distancing and avoid large group gatherings starting June 12. Camping is available only for those in the same family unit. For the new camping guidelines, visit www.parks.ca.gov/COVID19Camping.
What is currently closed at this park and throughout the State Park System?
Statewide:
Many campgrounds across the state remain closed until further notice. Some campgrounds have started to reopen with modifications. For more information, please visit www.parks.ca.gov/COVID19Camping.
High public-use indoor facilities, including museums and visitor centers.
Special events and tours continue to be canceled until further notice
Are there any new visitor guidelines?
Yes, please see below:
Stay Local: Stay close to home. Walk or bike into the park. Parking is very limited. Do not take road trips to parks and beaches or to neighboring states.
Stay Active: Keep walking, jogging, hiking and biking. Watch for one-way trails.
Stay Safer at 6 Feet: Maintain a physical distance of 6 feet or more. Gatherings, picnics and parties are not allowed. Visitors will be asked to leave if there are too many people at the park, beach or on trails to allow for the required physical distance.
Stay Clean: Be prepared. Bring soap/sanitizer and pack out all trash.
Stay Covered: If your county health orders require it, please be sure to wear face coverings when you cannot maintain a safe 6-foot distance from others.
Thank you for your patience and continued support of California State Parks as we work to limit your risk for exposure to COVID-19 in the outdoors. For more information, please visit
parks.ca.gov/FlattenTheCurve
.
District Superintendent's Order 271-19-001 Effective immediately: Due to extreme fire danger at Onyx Ranch State Vehicular Recreation Area is closed to open fires of any kind with the exception of gas-fueled stoves. Please see the District Superintendent's Posted Order for more information.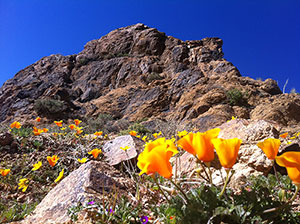 Eastern Kern County Onyx Ranch State Vehicular Recreation Area (SVRA) is the second largest unit of California State Parks Off-Highway Motor Vehicle Recreation Division. Of the nine California SVRAs, Onyx Ranch SVRA is the newest acquisition. Located in eastern Kern County and adjacent to State Route 14 on the western edge of the Mojave Desert, the SVRA offers over 26,000 acres of scenic and challenging terrain for all-terrain vehicles (ATVs), motorcycles, recreational off-highway vehicles (ROVs) and 4x4 vehicles.
Laid out in a checkerboard fashion, Eastern Kern County Onyx Ranch SVRA is surrounded by mostly Bureau of Land Management (BLM) land that also offers visitors varied and exciting off-highway vehicle (OHV) recreation opportunities. Eastern Kern County Onyx Ranch SVRA provides many miles of trails and open riding areas that traverse across BLM, State Parks, and private land. Open riding is also available at both Jawbone Canyon and Dove Springs.
Elevations at Eastern Kern County Onyx Ranch SVRA range from 2,200 to over 6,400 feet. Occasional snowfalls occur in the winter months. Summers are mostly hot and dry. The most pleasant times of the year for OHV recreation occurs between October and April when temperatures are cool and occasional rains provide for reduced dust and improved traction. Nighttime temperatures frequently drop below freezing in the winter, spring, and fall.
No hook-ups or water for camping is available in the area so please plan to be self-contained if you will be camping. Pit toilets are available at several locations throughout the area.
District Superintendent Orders
The following District Superintendent Orders have been implemented: