This park unit is fully open. Please take the time to read the information contained on this webpage to find out what is open and closed, and what COVID-19 guidelines are in place.
---
COVID-19 Guidelines - (February 16, 2022)Recreate Responsibly
Protect yourself, family, friends and your community by following these prevention measures:
Know Before You Go – Prior to leaving home, check the status of the park unit you want to visit to find out what restrictions and guidelines are in place. Have a back-up plan in case your destination is crowded. Stay home if you are sick
Plan Ahead – Some restrooms will be temporarily closed to keep up with cleaning schedules. Bring soap/hand sanitizer.
Play It Safe – Find out what precautions you should take when exploring the outdoors, especially if this is your first time visiting the State Park System. Learn more at parks.ca.gov/SafetyTips.
Be COVID-19 Safe – State Parks continues to meet guidance from local and state public officials as COVID-19 is still present and still deadly. Starting Feb. 16, 2022, state guidance requires masking for unvaccinated individuals in indoor settings, such as museums and visitor centers. Fully vaccinated individuals are recommended to continue indoor masking when the risk may be high. Please plan ahead as local county guidelines may differ from state guidance and visitors are urged to follow county guidelines when required. Read the latest COVID-19 guidance at COVID19.ca.gov.
Leave No Trace – Leave areas better than how you found them by staying on designated trails and packing out all trash. Do not disturb wildlife or plants.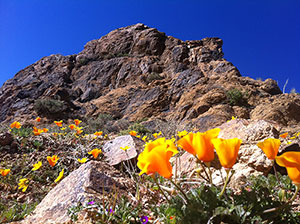 Eastern Kern County Onyx Ranch State Vehicular Recreation Area (SVRA) is the second largest unit of California State Parks Off-Highway Motor Vehicle Recreation Division. Of the nine California SVRAs, Onyx Ranch SVRA is the newest acquisition. Located in eastern Kern County and adjacent to State Route 14 on the western edge of the Mojave Desert, the SVRA offers over 26,000 acres of scenic and challenging terrain for all-terrain vehicles (ATVs), motorcycles, recreational off-highway vehicles (ROVs) and 4x4 vehicles.
Laid out in a checkerboard fashion, Eastern Kern County Onyx Ranch SVRA is surrounded by mostly Bureau of Land Management (BLM) land that also offers visitors varied and exciting off-highway vehicle (OHV) recreation opportunities. Eastern Kern County Onyx Ranch SVRA provides many miles of trails and open riding areas that traverse across BLM, State Parks, and private land. Open riding is also available at both Jawbone Canyon and Dove Springs.
Elevations at Eastern Kern County Onyx Ranch SVRA range from 2,200 to over 6,400 feet. Occasional snowfalls occur in the winter months. Summers are mostly hot and dry. The most pleasant times of the year for OHV recreation occurs between October and April when temperatures are cool and occasional rains provide for reduced dust and improved traction. Nighttime temperatures frequently drop below freezing in the winter, spring, and fall.
No hook-ups or water for camping is available in the area so please plan to be self-contained if you will be camping. Pit toilets are available at several locations throughout the area.
District Superintendent Orders
The following District Superintendent Orders have been implemented: