Prairie City Hillclimb Program (Prairie City SVRA)
Coyote Gulch Restoration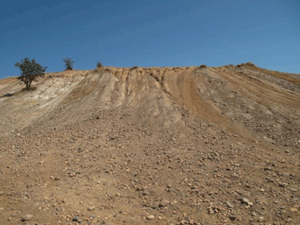 The Prairie City Hillclimb Program initially included just the Oak Hill area south of the Pro Motocross (Hangtown) facility, and restoration efforts began there in 2009. The goal of the program is to restore eroded hillsides while also providing areas for hillclimb recreation on a rotational basis. In the fall of 2013, Prairie City SVRA expanded the footprint of its program by adding a section of the Coyote Gulch ridge to the program. This hillclimb was severely eroded and rutted down to a rocky shelf. Restoration of the area included the usage of approximately 300 tons of native soil retrieved from sediment basins within the park, followed by trenching and wattle placement, and hydro-seeding using a custom native seed mix.
Oak Hill Restoration
The Prairie City Hillclimb Program included further restoration of the north Oak Hill slope in fall 2014 in conjunction with a managed re-opening of the east Oak Hill slope. Assessment is underway for further expansion of the Prairie City Hillclimb Program.