Join us this Saturday, Dec. 9 at 5 pm for Carnegie's 1st Annual Light Parade by decorating your dirt bike, ATV or side by side.
To Participate:
1. Bring donation for Brighter Christmas (toys, food, etc)
2. Vehicle must have a headlight (either built in or strapped on)
Participating vehicles will stage at the special event area. Spectors can view the parade in the main parking lot by MotoMart and the campground. Parade route does not go into the hills.
TRAIL CLOSURES MAP

Stay on Trail to keep these areas open!
Phase 3
OPEN
Los Osos Climb
Closed

OTR

Harrison Hill
OPEN
Los Osos Knoll
OPEN

Seven Trails
Closed

Off Trail Riding (OTR)

West Black Bear
OPEN
Raven
Closed

OTR

East Black Bear
OPEN
Kiln East
Closed

OTR

Bunkhouse
OPEN
SRI Loop
OPEN
Kiln West
OPEN
Road Runner
Closed

OTR

Burned Pottery
OPEN
OTR closures usually open one week after closed. Map
Last updated 12/5/23
Basic Park Information
Red Sticker Season: Red Sticker OHVs may be ridden October 1 - April 30. Green Sticker OHVs may be riden all year round. Learn more at California Air Resources Board Red Sticker Program or Red Sticker Riding Schedule.
Operating Hours:
8 am - 8 pm - Summer
8 am - 7 pm - Spring/Fall
8 am - 6 pm - Winter
7 days a week

Phone: (925) 447-9027

Emergency 911

Fees: Day use is $5.00. Camping is $10.00 per night and per vehicle.

Park Brochure & Map

Address: 18600 west Corral Hollow Road, Tracy, CA 95376
Get Directions

Riding Facilities:
Motocross Track
ATV/MC Track
70cc Children's Track
110cc Beginner Track

Weather Conditions: Carnegie SVRA Weather Link
The hills at Carnegie SVRA will be closed for a minimum of 12 hours when we reach the following rain thresholds, as measured by the gauge at the park entrance.
• More than 0.30" in 12 hours
• More than 0.50" in 24 hours
• More than 0.65" in 48 hours

Store: MotoMart sells off-road parts and accessories, apparel, safety equipment, food, and non-alcoholic beverages.
Call MotoMart at (925) 455-1318 for information and store hours, or visit their website www.motomartatcarnegie.com.

RECEIVE TEXTS ABOUT CARNEGIE SVRA CONDITIONS!
Receive a text alert on your mobile device about wet weather closures and reopening's, track grooming, and other park conditions.
Text "OHV" to (662) 200-4303 to sign up. [12/14/17]

Dogs: Allowed on a tended 6 foot leash or confined in an enclosed vehicle, tent, or pen. Dogs, other than service animals, are prohibited on all motorized trails.
In the beginning of 2023, multiple storms and heavy rain damaged many parts of Carnegie SVRA. This
Story Map
shows how park staff assessed the damages and worked to repair the park
JOIN THE CARNEGIE ADVISORY TEAM
The Carnegie Advisory Team (CAT) mission is to provide input on park projects and operations that relate to the user's recreational experience and safety. The overall goal is to give stakeholders a voice with park staff to present ideas, complaints, and views on current projects, future projects, operations, and public outreach. CAT meetings provide a forum for park staff to inform stakeholders on park functions, park planning, and regulations and how they pertain to the way the park is or will be operated.
This partnership allows management to hear the visitor's ideas and concerns and consider them when making decisions on activities that will affect the park. The partnership also brings transparency to the stakeholders on management decisions regarding park planning and operations.
Meetings are typically held on the 3rd Tuesday of the month at 4:30 pm to discuss new projects in the park and any relevant park updates. Duties also include trail creation and review, educating other visitors and point of contacts for the public to voice concerns and discuss with park staff. If you are interested in joing these meetings please contact
Feedback.Carnegie@parks.ca.gov
.
Welcome to Carnegie State Vehicular Recreation Area!
Located in the hills of eastern Alameda and western San Joaquin counties, Carnegie is one of nine SVRAs administered by the California Department of Parks and Recreation. Carnegie SVRA has more than 1,300 acres of riding area, over 80 miles of trails, and is a fun, challenging, and scenic place to ride. There are numerous off-highway opportunities for motorcycles, ATVs, 4x4s, and side-by-sides. Visit MotoMart for refreshments, bike parts and riding gear. Rest from riding in the day use area or spend the night in the campground. You might even catch a glimpse of the local wildlife.
TERRAIN
The park is characterized by rolling hills, dry rocky washes, and steep, rugged canyons with outstanding opportunities for hillclimbs and many scenic views. Carnegie provides a setting for off-highway vehicle users of all skill levels. The hills are divided into two use areas: open riding and designated trails only in Resource Management Areas (RMAs). Roads, trails, and riding areas are two way; please watch for oncoming traffic.
DAY USE AREAS
Enjoy the day in our day use areas, complete with ramadas, tables, BBQ pits and bathrooms nearby in the valley floor. There are picnic areas is the hills located in the areas of Black Bear, Los Osos, Phase III, and Pottery.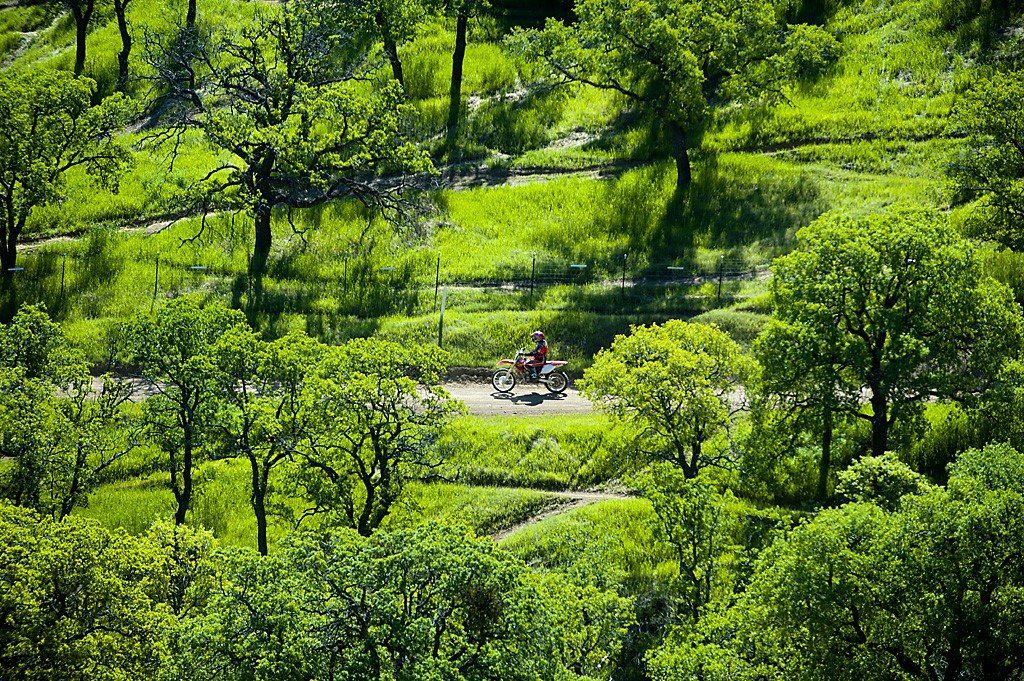 Safe and Responsible OHV Operation

For more information about OHV training, please refer to the following web pages.