California Off-Highway Motor Vehicle Recreation Commission
California's Off-Highway Motor Vehicle Recreation (OHMVR) Commission was created by the Legislature in 1982. The OHMVR Commission has responsibility for the approval of general plans, receives public comments about the program, and reviews plans for new and expanded recreation areas applying for grant funds.

Nine Commissioners are appointed to staggered four-year terms. The Governor appoints five of the members (subject to Senate confirmation), and the Senate Committee on Rules and the Speaker of the Assembly each appoint two members. The Commission membership is intended to represent a broad range of groups including OHV recreation enthusiasts, biological or soil scientists, rural landowners, law enforcement, environmental protection organizations, and non-motorized recreation interests.
Commissioners
Patricia Ureña, Chair
El Centro, CA
January 2021 - January 2025
Governor Newsom
Biography
Roger Salazar, Vice Chair
Sacramento, CA
May 2020 - January 2024
Governor Newsom
Biography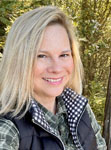 Kathleen "Kat" Anderson
San Francisco, CA
August 2023 - January 2024
Governor Newsom
Shaun Flanigan
Sacramento, CA
August 2023 - January 2027
Speaker of the Assembly
Biography
Tom Lemmon
San Diego, CA
January 2020 - January 2024
Senate Rules Committee
Biography
Nicholas Mueller
Manteca, CA
August 2022 - January 2026
Governor Newsom
Biography
Edward Patrovsky
Big Bear City, CA
January 2021 - January 2025
Senate Rules Committee
Biography
Tommy Randle
San Dimas, CA
June 2020 - January 2024
Governor Newsom
Biography
Diane Ross-Leech
Berkeley, CA
August 2020 - January 2024
Speaker of the Assembly
Biography