PATRICIA UREÑA, Chair
Calexico, California
Appointed by Governor Brown in 2018, Commissioner Patricia Ureña has worked with the City of El Centro Community Services Department since 1982 and serves as the Recreation Supervisor that oversees the aquatics division and all sports and facility programming. She has been instrumental in spearheading fundraising and organizing volunteers for special events. She is also the Director of the El Centro National Youth Project Using Mini-bikes (NYPUM) program and works with youth ages 10-17 teaching and certifying them in motorcycle safety riding lessons and desert survival tips, and works with youth who are experiencing challenges in school.
Since 1994, Commissioner Ureña has been the Area Director for the Imperial Valley Special Olympics and works year-round with individuals with intellectual disabilities and special needs. She currently teaches physical education (P.E.) at Imperial Valley College for students with disabilities and has worked on many local projects that enhance the quality of life for underserved youth in Imperial County.
Commissioner Ureña currently serves as the Juvenile Justice Commission Chair for Imperial County and advocates for children and youth in the Juvenile Justice system. She is a member of the El Centro Elementary School District SARB (Student Attendance Review Board), the El Centro Optimist Club, Kiwanis Club, MANA de Imperial Valley, and Elks 1325 Club. Commissioner Ureña was named Woman of the Year by the State Assembly in 2016 and Woman of the Year by MANA in 2010.
Commissioner Ureña resides in Calexico with her son, Robert, who loves to travel, ride motorcycles and quads, and enjoys the outdoors.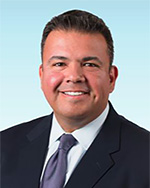 ROGER SALAZAR, Vice Chair
Sacramento, California
Appointed by Governor Gavin Newsom in 2020, Commissioner Roger Salazar brings a lifelong family history of off-roading to the OHMVR Commission. As a boy, he would accompany his father and uncles on trips through the Rubicon Trail and learned to drive on his Dad's 1978 Jeep CJ5. The earliest known photograph of his father is as an infant in front of the Salazar family 1946 Willys Jeep. There has been a Jeep in the Salazar family continuously for nearly 75 years.
Commissioner Salazar has run the Rubicon Trail multiple times and participated in dozens of Jeep/Jeepers Jamborees, Easter Jeep Safaris, and California Four Wheel Drive Association off-road events. He has been a frequent visitor to Prairie City SVRA and Hollister Hills SVRA and has been off-roading in Death Valley, Big Bear, Mojave, Niagara Rim, Bald Mountain, Fordyce, Dusy-Ershim, Slick Rock, Barrett Lake, Hell Hole, Mormon Emigrant Trail, Signal Peak, Sourgrass and just about everywhere in between. You may see him and his Wrangler Rubicon "Jeep No7" out on the trails on any given weekend or you can follow their exploits on Instagram @JeepNo7.
A California native, Commissioner Salazar is a Life Member of the California Four Wheel Drive Association and of the California Off-Road Vehicle Association. He is also a member and an officer of the Sacramento-based Sierra Treasure Hunters 4 Wheel Drive Club and an associate member of Red Rock 4-Wheelers of Moab, UT.
Commissioner Salazar believes we must strive to balance responsibly maintaining public access to off-highway motor vehicle recreation areas and preserving and protecting the environment so that future generations of Californians from all backgrounds can continue to enjoy the outdoors.
Professionally, Salazar has been president of ALZA Strategies, a public affairs firm, since 2014. He was partner at Acosta/Salazar LLC from 2004 to 2012.
Commissioner Salazar served as press secretary and deputy press secretary in the Office of Governor Gray Davis from 2000 to 2002, deputy press secretary for Gore 2000 from 1999 to 2000, and assistant press secretary in the Office of President Bill Clinton from 1995 to 1999. He earned a Master of Arts degree in political management from George Washington University and a Bachelor of Arts degree in Political Science from the University of Redlands.
He currently resides in Sacramento with his wife, Katrina, and has two grown children, two Labradors, and a Mackerel tabby.
SHAUN FLANIGAN
Sacramento, California
In 2011, Shaun Flanigan founded Capitol Strategic Advisors with James Jack who was the founder of Jack Advocacy Group. Capitol Strategic Advisors specializes in many facets of the political industry including legislative and regulatory work, coalition building and political strategy.
In 2001, Shaun began his professional lobbying career for American Continental Group, Inc. which is a Washington D.C.- based firm.
Following his career in Washington D.C., Shaun spent many years working in the California Legislature. During his time as Chief of Staff for the Assembly Minority Leader, Shaun worked on a wide range of public policy areas with extensive expertise in governmental organization, business, insurance, health, education, water, budget and taxation issues. Shaun served as the primary liaison between the offices of the President pro Tempore of the Senate, Speaker of the Assembly, Senate Minority Leader and the Governor of California. Shaun was responsible for overseeing office employees, as well as policy, communications, budget and other consultants. He also served as the top senior advisor on all issues relating to the Member as Assembly Minority Leader.
After leaving the California Legislature, Shaun began lobbying with The Flanigan Law Firm which is a Sacramento-based lobbying firm. During his five years with The Flanigan Law Firm, Shaun represented clients from diverse fields including agriculture, gaming, tribal issues, horse racing, alcohol, insurance and telecommunications.
In 2011, Shaun left The Flanigan Law Firm to start his own lobbying practice, Capitol Strategic Advisors, in order to provide his clients with a new level of personalized service, attention and dedication that few Sacramento lobbying firms can offer.
In addition to lobbying, Shaun provides strategic consulting and political affairs direction to clients. Shaun is affiliated with several high-profile political action committees and independent expenditure groups. Specifically, Shaun uses his extensive political campaign acumen to advise major California donors in high profile campaigns and initiatives.
Shaun is currently on the Board of the Moretti Foundation. The Bob Moretti Memorial Scholarship Foundation was created to provide a lasting memorial to Speaker Moretti in the form of a perpetual scholarship fund. Since 1990, the Foundation has provided scholarships to California students attending California's colleges and universities. Hundreds of students have been recognized as "Moretti Scholars".
Shaun is a former Board Member for the Sacramento Children's Home. The Sacramento Children's Home has been dedicated to the care and support of Sacramento's most vulnerable children and families for nearly 150 years.
Shaun holds a Bachelor's Degree in Political Science from San Diego State University where he served on Associated Student Council. He is currently an active member of the SDSU Alumni Association.
TOM LEMMON
San Diego, California
Appointed by the Senate Rules Committee and ProTem Senator Toni Atkins in January 2020, Commissioner Lemmon is a native Californian. He currently resides in San Diego with his wife Karen of over 25 years and daughter Katie who shares her parents' passion for the outdoors.
Commissioner Lemmon is a desert rat by birth having been raised in Ocotillo Wells. His exposure and participation in the off road community spans over five decades before there were green stickers, site maps or road signs.

Commissioner Lemmon has served on numerous non-profit boards such as the Old Mission Beach Athletic Club that promotes youth athletics, the United Way, and the San Diego Workforce Investment Board. He has participated in oversight committees for bond expenditures including chairing the construction committee for San Diego Community College as well as being a past chair of the Construction Tech Academy at Kearny High School. He currently presides as Chair for San Diego's largest affordable housing site and is Business Manager for the San Diego County Building and Construction Trades Council where he advocates on behalf of working people.
NICHOLAS MUELLER
Manteca, California

Appointed by Governor Newsom in 2022, Commissioner Nicholas Mueller has always seen the outdoors as an adventure. Growing up close to many outdoor activities has given Mueller access to the diversity in which California offers. Commissioner Mueller has a great deal of respect and appreciation for the outdoors, from biking, hiking, hunting, and fishing to conservation and preservation, traditions passed on by his father Gary. Commissioner Mueller wishes to continue these traditions by passing these values on to the next generation of outdoor enthusiasts, including his two sons: Daniel and William.
Commissioner Mueller currently serves as the Director of the Greater Valley Conservation Corps (GVCC) which is an agency under the San Joaquin County Office of Education. Mueller earned a Bachelor of Science from Sacramento State, holds a Master's in Educational Leadership and School Development from Teachers College of San Joaquin, serves as a board member for the Women's Center Youth and Family Services, is a Leadership Stockton grad, and is a member of The California Association of Local Conservation Corps (CALCC).
Commissioner Mueller is a long-time resident of Manteca where he lives with his wife Kailyn and two boys Daniel and William.
EDWARD PATROVSKY
Big Bear City, California

Appointed by the State Senate in January 2013, Commissioner Edward Patrovsky developed his passion for the outdoors hiking and riding his dirt bike in the Angeles National Forest as a teenager. After graduating from Cal Poly, San Luis Obispo, Patrovsky worked as a firefighter for the U.S. Forest Service. This led to many years of employment as a Park Ranger at several of our country's National Parks, including Grand Canyon, Rocky Mountain and Sequoia-Kings Canyon.

In 1988, Commissioner Patrovsky transferred to the U.S. Bureau of Land Management (BLM) as a Law Enforcement Ranger. While assigned to the Palm Springs and Ridgecrest Field Offices, he spent considerable time with Off-Highway Vehicle (OHV) enforcement. This included working numerous holiday weekends in OHV Open Areas such as Glamis and Jawbone-Dove Springs. Since retiring in 2004, he has worked part-time as a seasonal Naturalist at the Desert Tortoise Natural Area near California City, and also operating a small Notary Public business.

Commissioner Patrovsky enjoys both muscle-powered and motorized recreational activities; including backpacking, whitewater river-running, skiing and bicycling. He has considerable experience riding ATVs, motorcycles and snowmobiles on Public Land. During the early 1990s, he was a certified ATV Safety Instructor and taught several classes.
TOMMY RANDLE
San Dimas, California

Commissioner Randle was appointed by Governor Brown to the California State Parks Commission where he served for 8 years. He was then appointed by Governor Newsome in 2021 when his term with State Parks expired. Open spaces have remained a positive influence in his life. The ability to admire, participate and encourage other to take advantage of all the outdoor activities California has to offer is a passion for Commissioner Randle. He wants to make sure that anyone who wants to take advantage of the many outdoor activities available in California, they can and will be encouraged to do so.

Commissioner Randle has the unique background of working in the private and public sectors. After graduating from college, with a BA degree in Sociology, Commissioner Randle was inducted into the military where he received an honorable discharge. He was then hired by IBM in marketing and retired after 25 years.

Commissioner Randle worked for the Department of Commerce, Bureau of the Census, from 1999 to 2003 as a government partnership specialist. He traveled to many cities in the region and spoke to the mayors and council members about the benefits the census would bring to their cities. He was able to get a proclamation of support from every city and unincorporated area that he visited. During the 2010 Decennial he was the initially Partnership Coordinator and his job was to hire and train 120 partnership specialist to educate the public in the Los Angeles Region and the State of Hawaii about the benefits the Census Count would bring to the state, regions, areas and communities. Commissioner Randle constantly informed his team that California was expected to lose two congressional seats in the 2010 Decennial however he would be disappointed if California lost one Congressional seat. The training and dedication of the partnership team paid dividends and California had the best census count in its history and California did not lose a single congressional seat.

Commissioner Randle resides in San Dimas California. He has a wife, son, daughter and grandson.
DIANE ROSS-LEECH
Berkeley, California
Appointed by Speaker of the Assembly Anthony Rendon in August, 2020, Commissioner Ross-Leech is a native Californian with a passion for environmental stewardship. From an early age, Commissioner Ross-Leech has been an avid outdoorswoman – hiking, camping, canoeing, backpacking, skiing, snow shoeing, and bird watching throughout California and the West.
In 2018 Commissioner Ross-Leech retired as Director of Environmental Policy at Pacific Gas and Electric Company. She has expertise in developing innovative strategies encompassing corporate sustainability, climate change adaptation, endangered species, migratory birds, land resource management and renewable energy. Throughout her career Commissioner Ross-Leech has built strong working relationships with federal and state resource agencies in California and Washington DC, and established a wide network of influential environmental non-profit and energy industry stakeholders.
Commissioner Ross-Leech is currently the Chair of the Board of Audubon California, on the Board of the California State Parks Foundation and a long-time member of the San Francisco Bay Trail Project. She also recently chaired the Berkeley City-wide Traffic Circle Policy Task Force (formed at the Mayor's request) to develop a vegetation and tree policy for the City's neighborhood traffic circles. She continues to assist the City's Public Works Department to successfully implement the new policy and program.
Since retiring Commissioner Ross-Leech has been spending a lot of time at the shared family vacation home on the North Shore of Lake Tahoe. Commissioner Ross-Leech lives in Berkeley, California with her husband Robert and daughter Jeanette, a recent graduate of U.C. Davis. Her son Ross is an attorney in New York City. The whole family loves to travel throughout the U.S. and overseas.