COVID-19 Guidelines - (February 16, 2022)Recreate Responsibly
Protect yourself, family, friends and your community by following these prevention measures:
Know Before You Go – Prior to leaving home, check the status of the park unit you want to visit to find out what restrictions and guidelines are in place. Have a back-up plan in case your destination is crowded. Stay home if you are sick
Plan Ahead – Some restrooms will be temporarily closed to keep up with cleaning schedules. Bring soap/hand sanitizer.
Play It Safe – Find out what precautions you should take when exploring the outdoors, especially if this is your first time visiting the State Park System. Learn more at parks.ca.gov/SafetyTips.
Be COVID-19 Safe – State Parks continues to meet guidance from local and state public officials as COVID-19 is still present and still deadly. Starting Feb. 16, 2022, state guidance requires masking for unvaccinated individuals in indoor settings, such as museums and visitor centers. Fully vaccinated individuals are recommended to continue indoor masking when the risk may be high. Please plan ahead as local county guidelines may differ from state guidance and visitors are urged to follow county guidelines when required. Read the latest COVID-19 guidance at COVID19.ca.gov.
Leave No Trace – Leave areas better than how you found them by staying on designated trails and packing out all trash. Do not disturb wildlife or plants.
Please take the time to read the information contained on this webpage to find out what is open and closed, and what COVID-19 guidelines are in place.
What is Open Now?
Main entrance.
Kids Track.
Main Staging Area.
ATV and MX Practice Tracks.
Obstacle Area.
4X4 Track and Staging Area.
Zones 1, 2 and 3 riding trails.
Concessions, including the PCMX Track and the Kart Track (open for practice/training sessions).
Quarter Midget Track (open for practice/training sessions).
What is Closed?
Mini MX Track (AX Track).
Environmental Training Center (open for training sessions by special event permit only).
---
Welcome to Prairie City State Vehicular Recreation Area!
Prairie City SVRA Improvement Group Quarterly Meetings
Environmental Training Center (ETC) for in person or online via Zoom
November 15, 2022 - 5PM to 6PM
MEETING MINUTES (Jan 11)

Project Presentation (Jan 11)


Quarterly meetings are held to provide the public with information on current park projects and developments. An agenda is provided prior to the meeting and time alloted at the end for public comment. For more information, email prairie_city@parks.ca.gov or call (916) 985-1093.
Visiting Prairie City State Vehicular Recreation Area
Prairie City is situated at the base of the Sierra Nevada foothills, 20 miles east of downtown Sacramento and three miles south of U.S. 50. The area offers off-highway vehicle enthusiasts a variety of interesting terrain and trails for motorcycles, all-terrain vehicles, and 4-wheel drive vehicles. There are flat, open grasslands, rolling hills with native blue oak trees, and acres of cobbled mine tailings left after gold dredges combed ancient river beds in search of gold during the late 1800s. Beginners, as well as experts, find a variety of terrain both challenging and enjoyable.
Prairie City SVRA takes its name from the gold rush community that was located just northeast of the present-day park. Today, the only reminders of that 1850s community are some old mine tailings and a historical marker, California Historical Landmark #464, which is located at the intersection of Prairie City Road and U.S. 50.
Aerojet General Corporation purchased the southern portion of this property in the early 1960s to build and test rocket engines for the U.S. Government. No actual rocket testing took place after Congress cut program funding. Remnants of the park's space-age past include a test pit south of the present day-use staging area and a dome-shaped building known as the "moon room" located next to the park office.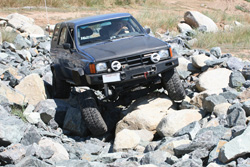 In 1972, Roy and Mary McGill leased 435 acres of the present park site from Aerojet General Corporation and created a motorcycle riding and competition facility called McGills Cycle Park. Sacramento County purchased the area in 1975 with the assistance of the State Off-Highway Vehicle Grants Program. An additional 401 acres was purchased in 1976 with State Off-Highway Vehicle Funds, bringing the total acreage to 836. Sacramento County managed the park until July 1988 when the operation was turned over to the Off-Highway Vehicle Division of the Department of Parks and Recreation.
Today, a wide range of birds and other wildlife reside in the area. The open grasslands attract golden eagles, red-tailed hawks, kestrels, and an occasional prairie falcon. Oak trees and brushy areas provide shelter for quail, wild turkeys, and pheasants. Lewis' woodpeckers, acorn woodpeckers, and northern flickers can often be seen on the blue oaks. Deer are often seen in the morning or evening hours when they come out to graze, and coyotes are also seen occasionally.
Recreational Land Management
Providing long-term sustained OHV recreation opportunity is a top priority in SVRA Management. Provisions in California law require actions to stabilize soils and to provide for healthy wildlife populations in OHV recreation areas. Sites exist throughout the SVRA which have become eroded. There are projects ongoing to stabilize eroded areas by reshaping slopes, and by reseeding and replanting bare areas. Vegetation creates wildlife habitat while plant roots help stabilize the soil. Project areas are temporarily closed to OHV use through the use of barriers, such as fences, hay bales, brush piles and signing. Where possible, well designed OHV trails are immediately provided through project areas. Other project areas may be closed for a number of years before being again opened for OHV use. Your understanding and support in staying out of areas closed for restoration help ensure OHV recreation opportunities for years to come.
Notice! A New Rock Crawl Trail in the 4x4 Area.
September 2022
Update
- Thirteen obstacles along an 1800 foot trail are now open to the public! This two "lane" 24 foot wide travel corridor is designed to accommodate a variety of driver skill levels. Through the fall and into winter, we will add larger boulders and a west end gatekeeper. Expect intermittent closures to create these more advanced obstacles. Put a tire on it and let us know what you think via our Facebook and/or Instagram pages.
4x4 Area Rock Crawl Trail and Stormwater Improvement Project Map
---
March 2022 Update- Check out the drone footage of our progress on the 4x4 Rock Crawl Trail! Earth work is underway and almost complete. This includes: using locally sourced soils from the sediment basins, recontouring slopes for improved stormwater control, and ripping soils to improve stormwater retention and seeding conditions (bright green areas are hydroseeding) 2.9 acres in total. Crews are now focusing on staging rocky material to build up the trail corridor and destination obstacles. The 4x4 Track, upper restroom and picnic area remain open for public use.


The goals of the project are to create a new sustainably designed 4x4 trail, enhance the condition of access roads, improve water quality, reduce airborne dust and expand grassland habitat.
The project will provide:


Over a quarter mile (approximately 1,800 feet) of new 4x4 rock crawling trail with a two "lane" 24 ft wide travel corridor designed to accommodate a variety of driver skill levels. Destination rock obstacles will be dotted throughout the trail, inviting beginner and more advanced motorists alike to enjoy an adventure that matches their abilities or practice new ones.
Approximately 0.5 acre of road surface upgrades along two routes that provide access to the Summit Picnic Area and Restroom.
Greater than 2 acres of stormwater improvements that include installing erosion control measures, recontouring slopes and increasing native plant cover to reduce run-off while creating grassland habitat.

Project construction will be divided into two phases. Phase 1 will include building the trail, fixing roads, and conducting stormwater improvements within the light green areas shown on the project map. Phase 2 will involve completing stormwater improvements planned for the dark green areas on the map. This phase will move forward as weather dictates.


To ensure public safety, some trail areas and roadways will be temporarily closed while construction activities are under way. Access to the Summit Picnic Area and Restroom will remain available and the facilities will continue to be open throughout construction. Use of the existing 4x4 area special event track will not be impacted. The new rock crawl trail will be opened after the rainy season in late spring or early summer 2022.


For additional information, contact the Prairie City SVRA Public Kiosk at 916-985-7378.
Additional Visitor Services
All Star Karting LLC (Go-Kart Race Track)
Armstrong Racing, LLC (Motocross race track operation)
Safe and Responsible OHV Operation

For more information about OHV training, please refer to the following web pages.