Notice: During winter months, portions of the park may fall under a wet weather closure (WWC) with rain. All user groups will have a portion of their designated areas to recreate. In addition, several times each year, the park closes to public riding for special event competitions. Check social media and/or call before you haul, (916) 985-7378.
Notice: The park is closed to public day use on January 13th and 14th for the Polka Dots MC Grand Prix.
Welcome to Prairie City State Vehicular Recreation Area!
The California State Parks Off-Highway Motor Vehicle Recreation Division is seeking your input on the Prairie City State Vehicle Recreation Area Road and Trail Management Plan. Please visit the project website for additional information at
Prairie City SVRA Road and Trail Management Plan
.
Public Workshop #2
Please join us for the second Public Workshop on the Draft Prairie City SVRA Road and Trail Management Plan (RTMP). The workshop will be held in-person at the Environmental Training Center located within the Prairie City SVRA at
13300 White Rock Road, Rancho Cordova, CA, 95742,
from 6:00 – 8:00 pm on
Wednesday, January 24, 2024.
California State Parks has prepared a Draft RTMP, and we need your feedback on proposed recommendations for the park. The RTMP proposes new trails in areas that have previously been closed to the public, designating different trails for different use types to reduce potential conflicts and improve safety, new facilities, reroutes of existing trails, new trail alignments, new camping facilities at selected staging areas, and other changes to improve the experience and protect natural and cultural resources at the park. The workshop will be a great opportunity to learn about the proposed recommendations, provide feedback, and share your thoughts with the planning team.
Click on the link below for more information on how to attend the public workshop. Registration for the event is not required but appreciated:
Public Workshop #2 on the Prairie City SVRA Road and Trail Management Plan
Visiting Prairie City State Vehicular Recreation Area
Prairie City is situated at the base of the Sierra Nevada foothills, 20 miles east of downtown Sacramento and three miles south of U.S. 50. The area offers off-highway vehicle enthusiasts a variety of interesting terrain and trails for motorcycles, all-terrain vehicles, and 4-wheel drive vehicles. There are flat, open grasslands, rolling hills with native blue oak trees, and acres of cobbled mine tailings left after gold dredges combed ancient river beds in search of gold during the late 1800s. Beginners, as well as experts, find a variety of terrain both challenging and enjoyable.
Prairie City SVRA takes its name from the gold rush community that was located just northeast of the present-day park. Today, the only reminders of that 1850s community are some old mine tailings and a historical marker, California Historical Landmark #464, which is located at the intersection of Prairie City Road and U.S. 50.
Aerojet General Corporation purchased the southern portion of this property in the early 1960s to build and test rocket engines for the U.S. Government. No actual rocket testing took place after Congress cut program funding. Remnants of the park's space-age past include a test pit south of the present day-use staging area and a dome-shaped building known as the "moon room" located next to the park office.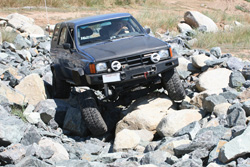 In 1972, Roy and Mary McGill leased 435 acres of the present park site from Aerojet General Corporation and created a motorcycle riding and competition facility called McGills Cycle Park. Sacramento County purchased the area in 1975 with the assistance of the State Off-Highway Vehicle Grants Program. An additional 401 acres was purchased in 1976 with State Off-Highway Vehicle Funds, bringing the total acreage to 836. Sacramento County managed the park until July 1988 when the operation was turned over to the Off-Highway Vehicle Division of the Department of Parks and Recreation.
Today, a wide range of birds and other wildlife reside in the area. The open grasslands attract golden eagles, red-tailed hawks, kestrels, and an occasional prairie falcon. Oak trees and brushy areas provide shelter for quail, wild turkeys, and pheasants. Lewis' woodpeckers, acorn woodpeckers, and northern flickers can often be seen on the blue oaks. Deer are often seen in the morning or evening hours when they come out to graze, and coyotes are also seen occasionally.
Recreational Land Management
Providing long-term sustained OHV recreation opportunity is a top priority in SVRA Management. Provisions in California law require actions to stabilize soils and to provide for healthy wildlife populations in OHV recreation areas. Sites exist throughout the SVRA which have become eroded. There are projects ongoing to stabilize eroded areas by reshaping slopes, and by reseeding and replanting bare areas. Vegetation creates wildlife habitat while plant roots help stabilize the soil. Project areas are temporarily closed to OHV use through the use of barriers, such as fences, hay bales, brush piles and signing. Where possible, well designed OHV trails are immediately provided through project areas. Other project areas may be closed for a number of years before being again opened for OHV use. Your understanding and support in staying out of areas closed for restoration help ensure OHV recreation opportunities for years to come.
PCIG Public Quarterly Meetings
Environmental Training Center (ETC)
Next Meeting - Tuesday, December 12th, 5 p.m.
September Meeting Summary
Quarterly meetings are held to provide the public with information on current park projects and developments. An agenda is provided prior to the meeting and time allotted at the end for public comment
.
For more information, email
prairie_city@parks.ca.gov
or call (916) 985-1093.
Wet Weather Closure (WWC) Information
A Wet Weather Closure policy and process are being implemented on January 17, 2023 WWC Posted Order. Recommendations for closures will be provided to the Sector Manager by a Prairie City Staff Team, on a daily basis.
Factors considered include seasonal precipitation totals, soil type, soil saturation/condition, presence of standing water, safety, and the imminent weather forecast.
View zoned portions of the park subject to wet weather closures here. During closures, Zones 1 & 2 remain open, while portions of Zones 3 & 4 are closed. For instance, the 4x4 Obstacle Area (in Zone 4) will remain open while the 4x4 Track & Open Area (in Zone 4) is closed. For instance, the Main Staging Area, MX and ATV practice tracks will remain open, while Spectator Hill down to Oak Hill MX Trail Area will be closed.
Closure notifications are provided via electronic sign board at the main entrance kiosk and posted on Prairie City SVRAs Facebook and Instagram pages. Visitors may also call ahead to the entrance kiosk at (916) 985-7378.
Details and procedures of the policy may change in the future based on monitoring and observations during implementation in the field. View detailed information of this management policy at WWC Policy & Process .
Current and Recent Projects
Zone 3 West Erosion Control Project
The purpose of the Zone 3 West Erosion Control Project is to improve rider safety and environmental conditions that are linked to soil erosion. The Project is located in a motorcycle and ATV riding area viewable from Main Staging (when looking east past the MX and ATV practice tracks).
Prior to the Project, soils in this area were eroding during windy conditions, rain events and off-highway vehicle use. This meant that during the dry season, dusty conditions limited sight distance for riders and diminished air quality. During the rainy season, stormwater run-off from this area contributed to temporary road closures and inaccessible trails due to flooding. Both situations reduced recreational opportunities.
This project is addressing those issues by reintroducing stormwater controls, improving trail tread, and restoring native vegetation.
Project construction will be divided into two phases. The first phase beginning in October 2023 will consist of earthwork to support soil stabilization and trail improvements, installing erosion control features and building temporary fencing. The second phase will commence in November and will involve hydroseeding the site. Site monitoring will continue through 2024 and the project will be deemed complete once vegetation is established in late Fall of 2024.
To ensure public safety, some trail areas will be temporarily closed while construction activities are under way. Trail closures will be short in duration.
For additional information, contact the Prairie City SVRA Public Kiosk at 916-985-7378.
NOTICE! New Intermediate MX Track in Progress.
December 2023 Update-INTERMEDIATE MX TRACK PROJECT DESCRIPTION.
Notice! New Rock N' Roller in the 4x4 Area.
August 2023 Update - 'Rock N' Roller' took first place over 'It'll Buff Out' with 'Lumpy' being the the third most popular. Thanks to all the crawlers who voted!
June 2023 Update - Naming of the new rock crawl trail entries were compiled through the spring from visitors using a survey posted to social media.
December 2022 Update – The trail was re-opened to the public on Wednesday, November 23 just in time for the Thanksgiving weekend. Staff rented a large haul truck and borrowed 2 large excavators to place more large rock around the new 4x4 trail. The gatekeeper obstacle on the West end has been completed and the other smaller obstacles have been added onto. In addition, staff from Resources and Maintenance spread native grass seed throughout the project site on either side of the trail and also placed rice straw over the seed to further protect the site from erosion while the seed is germinating.
---
September 2022
Update
- Thirteen obstacles along an 1800 foot trail are now open to the public! This two "lane" 24 foot wide travel corridor is designed to accommodate a variety of driver skill levels. Through the fall and into winter, we will add larger boulders and a west end gatekeeper. Expect intermittent closures to create these more advanced obstacles. Put a tire on it and let us know what you think via our Facebook and/or Instagram pages.
4x4 Area Rock Crawl Trail and Stormwater Improvement Project Map
---
March 2022 Update- Check out the drone footage of our progress on the 4x4 Rock Crawl Trail! Earth work is underway and almost complete. This includes: using locally sourced soils from the sediment basins, recontouring slopes for improved stormwater control, and ripping soils to improve stormwater retention and seeding conditions (bright green areas are hydroseeding) 2.9 acres in total. Crews are now focusing on staging rocky material to build up the trail corridor and destination obstacles. The 4x4 Track, upper restroom and picnic area remain open for public use.


The goals of the project are to create a new sustainably designed 4x4 trail, enhance the condition of access roads, improve water quality, reduce airborne dust and expand grassland habitat.
The project will provide:


Over a quarter mile (approximately 1,800 feet) of new 4x4 rock crawling trail with a two "lane" 24 ft wide travel corridor designed to accommodate a variety of driver skill levels. Destination rock obstacles will be dotted throughout the trail, inviting beginner and more advanced motorists alike to enjoy an adventure that matches their abilities or practice new ones.
Approximately 0.5 acre of road surface upgrades along two routes that provide access to the Summit Picnic Area and Restroom.
Greater than 2 acres of stormwater improvements that include installing erosion control measures, recontouring slopes and increasing native plant cover to reduce run-off while creating grassland habitat.

Project construction will be divided into two phases. Phase 1 will include building the trail, fixing roads, and conducting stormwater improvements within the light green areas shown on the project map. Phase 2 will involve completing stormwater improvements planned for the dark green areas on the map. This phase will move forward as weather dictates.


To ensure public safety, some trail areas and roadways will be temporarily closed while construction activities are under way. Access to the Summit Picnic Area and Restroom will remain available and the facilities will continue to be open throughout construction. Use of the existing 4x4 area special event track will not be impacted. The new rock crawl trail will be opened after the rainy season in late spring or early summer 2022.


For additional information, contact the Prairie City SVRA Public Kiosk at 916-985-7378.
Additional Visitor Services
All Star Karting LLC (Go-Kart Race Track)
Armstrong Racing, LLC (Motocross race track operation)
Safe and Responsible OHV Operation

For more information about OHV training, please refer to the following web pages.