Environmental Training Center
The Environmental Training Center was designed to teach safe and environmentally responsible off-highway recreation practices. The facility consists of a classroom, two training ranges, and a three-acre trail system landscaped with California native plants. The trail system allows trainers to instill respect for the land while challenging participants to real-life riding conditions. Contact the appropriate organization below to schedule your class.
ATV Safety Institute
The ATV Safety Institute (ASI) offers a hands-on, half-day All-Terrain Vehicle Rider Course. Students practice basic safety techniques with hands-on exercises that cover starting and stopping, turning, negotiating hills, emergency stopping and swerving, and riding over obstacles. Particular emphasis is placed on safe OHV operation and maintaining vehicle control. The course offers students an opportunity to increase their awareness of the environment and to practice basic riding skills in a controlled environment under the direct supervision of a licensed instructor.
MSF Dirt Bike School

Dirt Bike School was created by the Motorcycle Safety Foundation (MSF) to provide hands-on rider training with an emphasis on safety and skill development. The class is a fun, one-day hands-on training session available to anyone six years old or above. New riders—or those who want to improve their riding skills—will benefit from the course. The certified coaches will teach you basic riding skills and responsible riding practices, including risk management and environmental awareness.
Recreational Off-Highway Vehicle Basic Driver Course
The Recreational Off-Highway Vehicle (ROV) Basic Driver Course is a training opportunity that provides current and experienced ROV users to learn and practice basic skills and techniques. It addresses basic operation and emphasizes safety awareness related specifically to ROV operation. The overall aim of the course is to provide for driver development in the areas of skill and risk management strategies. This includes learning experiences to foster driver gains in basic knowledge, skill, attitude, values, and habits.
The Recreational Off-Highway Open Trail Experience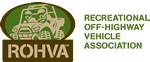 The Open Trail Experience (OTE) allows drivers to apply the techniques on "real-world" terrain, under the guidance of a certified Recreation Off-Highway Vehicle Association Driver Coach. The participant will gain the experience of driving on rocky and sandy terrain, fording water, and clearing obstacles such as hills, mud, and rocks. The OTE allows the student drivers to hone their newly acquired skills under the guidance of a certified Driver Coach.