OHMVR Division Strategic Plan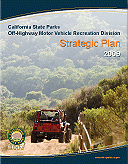 Through an extensive process that included internal staff workshops and public meetings, the Division conducted a comprehensive assessment of external and internal factors that affect the OHMVR Program. Based on the information gleaned during this process, the Division developed strategic planning goals and objectives.

The Strategic Plan provides a road map for the Division and is based on four strategic themes and five guiding principles. Based on these strategic themes and guiding principles, the Strategic Plan adopts a framework of six goals for the OHMVR Program to meet its legislative mandates.
---

Vision Statement

The OHMVR Division will assure ongoing access to a wide variety of high quality OHV recreational opportunities through our commitment to prudent resource management, outdoor recreation, community education, and environmental stewardship.

Mission Statement

The Mission of the Off-Highway Motor Vehicle Recreation(OHMVR) Division is to provide leadership statewide in the area of off-highway vehicle (OHV) recreation; to acquire, develop, and operate state-owned vehicular recreation areas; and to otherwise provide for a statewide system of managed OHV recreational opportunities through funding to other public agencies. The OHMVR Division works to ensure quality recreational opportunities remain available for future generations by providing for education, conservation, and enforcement efforts that balance OHV recreation impacts with programs that conserve and protect cultural and natural resources.